UPDATES TO THE PHOTO GALLERIES 9-22-08

9-17-08 3:25PM - Final Update

These images and links were compiled from 9-13-2008 to 9-17-2008 following the devastation of Hurricane Ike.

With little being reported about the Bolivar Peninsula on the mainstream news in the first few days after the storm, everyone turned to the internet in the search for their homes and loved ones. I was lucky enough to find a few aerial shots very early on and posted them for my wife's family to see. This all started as the hunt for Hotel YaYa, our family beach house owned by Blake and Molly Barnes (my wife's aunt and uncle) with me doing what I do best to put our family at ease.

Hundreds of pictures, links and videos later, this has turned into so much more than the search for a single house. I have heard from hundreds of people who have ties to the Bolivar and Crystal Beach area, and I'm extremely grateful to have shared in the memories of everyone who has written to me over the last few days. I am glad that I was able to have a part in giving people hope, as well as closure, for a place that so many of us hold so close to our hearts.

Now with over 100,000 people having visited this page to view the devastation, I feel that we have done our best to provide as much information about the area as possible. I will continue adding select new aerial shots to the photo gallery at My Picasa Images and will have an update stamp for the most recent pictures added. This page will also remain up indefinitely for anyone who might need it in the future.

Thank you all for allowing me to be a part of your lives in these tragic and uncertain times.

Jake Cantrell - http://jakeabby.com.


Our Proposal - 6-17-02

The YaYas on the beach

| | | |
| --- | --- | --- |
| Tyler on the beach | Abby and Tyler | First kite |
---

Helpful Links:
Google Earth - NOAA KMZ for Google Earth - USGS KMZ for Google Earth
Download and install Google Earth. Download each of the KMZ files. Double click 1 KMZ file, it will load Google Earth with that data. When Google Earth is loaded, double click the second KMZ file. That will open Google Earth with both KMZ files loaded. When you see what you are looking for, out in the ocean you will see little cameras. These are the links to the aerial images of that area.

NOAA Ike Site - UPDATED 9-17 WITH NEW IMAGES

Rebuild Bolivar

Bring Back Bolivar - Sign up

Photo Galleries:
My Picasa Images (Updated 9-21-08)
Jeff's Gallery (Updated 9-20-08) - While I feel there is some unnecessary self-promotion included in a few of these galleries, Jeff and his crew have done an amazing job getting close up images of a very large number of homes on the peninsula.
Private Flyover (164 Images Lot of Biscayne Images)
Racheal Huber's Winnie/High Island/Gilchrist Gallery
Teri Champlin's Fisherman Drive Street Level Pictures
APFLYER Very large collecion of aerial images from Galveston and Bolivar Peninsula
Barry B Sent this gallery of Gilchrist.

Postal Information:
Due to serious facility damage, mail for Post Office Box customers served at the Port Bolivar (77560), Crystal Beach (77650), and High Island (77623) Post Offices has been temporarily relocated to the Winnie Post Office (77665) at 324 Hwy. 124 in Winnie for pickup. Mail for customers at the Gilchrist Post Office (77617), has been relocated to the Stowell Post Office (77661) at 3608 State Hwy. 124

Homeowners Websites:
Canal City Homeowners
Kona Kai Homeowners
Gilchrist Community Association (Has Survivor list on site)

---
UPDATES


9-17-08 11:10AM - Sherri Jeakins sent me this link to the Kona Kai homeowners website.
Kona Kai Homeowners
9-17-08 9:15AM - Marion F. Carpenter Jr just sent this overlay of the N. Jetty area.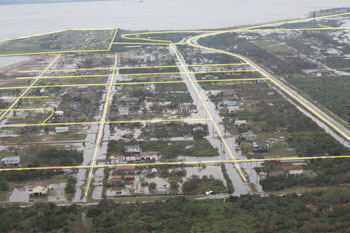 9-17-08 9:15AM - Copacabana Dr. Google Earth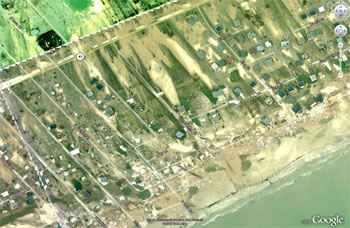 Sand Castle USGS Data Aerial Data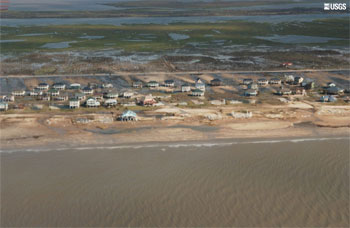 -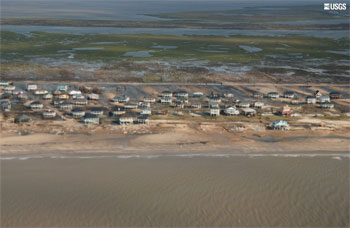 9-16-08 10:45PM - As I say goodnight, I wanted to leave you with a remarkable image. I got an email from Becky earlier looking for images from Waterways Edition. I sent her the NOAA images of the area, she said that is what she was looking for, and that her friends dad hadn't made it out in time and rode the storm out in his house. I just got another email from her with this image that she found on MSNBC.com.

Simply amazing. What a message.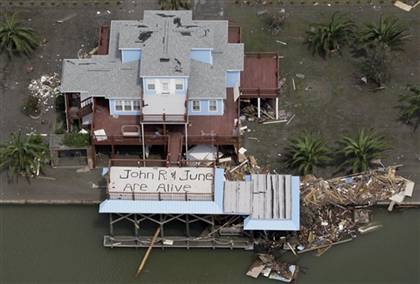 9-16-08 10:40PM - Paul Andreus forwarded me these images. They seem to have come from Bobby Boudreaux.

View Gallery

9-16-08 10:32PM - Julie just sent me these images. They came from a law enforcement friend of hers. He is going to send more pictures when he has a chance.

View Gallery

Sorry to be a bit YaYa crazy tonight, but this site started as the search for Hotel YaYa here it is from this gallery: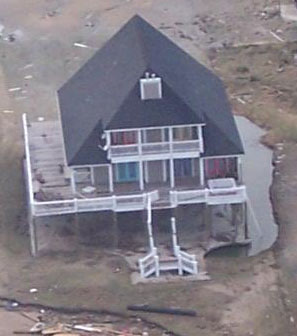 9-16-08 10:18PM - Carolyn Gudgel sent me this video. It is a flyover of the coast, it shows some great tight shots of a lot of houses.

Video Removed at Youtube

Here is a screenshot of Hotel YaYa from the video at 2:12: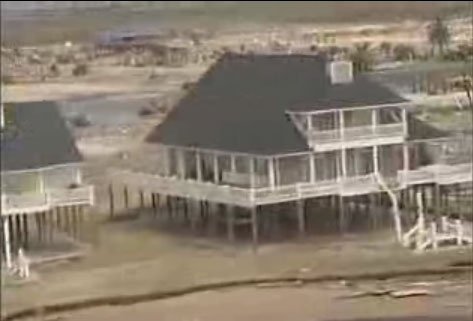 9-16-08 10:15PM - Here are more comparison shots from Andrew Ratliff.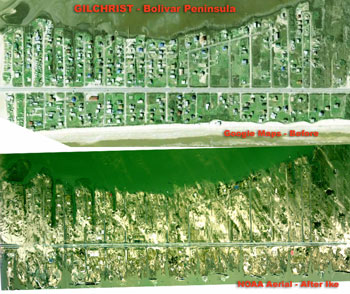 -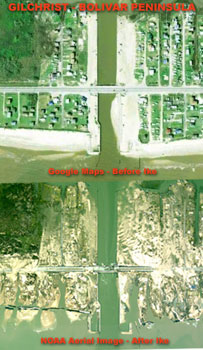 9-16-08 10:00PM - Here's what I've been waiting for. An entire set of images from a private flyover. Thanks to Hill Dishman for sending these images taken by Jennifer Wade & Dee Winston

View Gallery (164 Images)

9-16-08 9:40PM - USGS view of Gulfview & O'neal area - this is the area that is missing the NOAA Satellite Data.

Download USGS KMZ File Here to get other images of this area.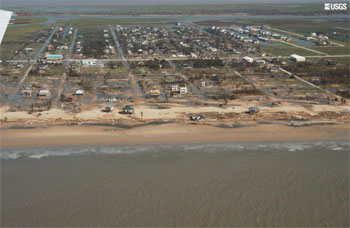 9-16-08 9:40PM - USGS view of Biscayne.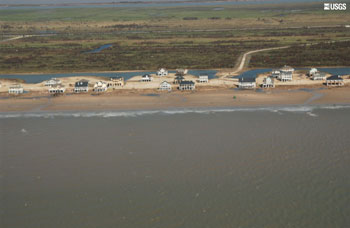 9-16-08 9:35PM - WOW. From this link Cay Osmon sent, the USGS has continuous photography along the beach from Oak Grove, LA to Quintana, TX. Download the KMZ file and load it into Google Earth to view. There are some great shots.

USGS KMZ Download

Here is an image of Hotel YaYa from their pictures: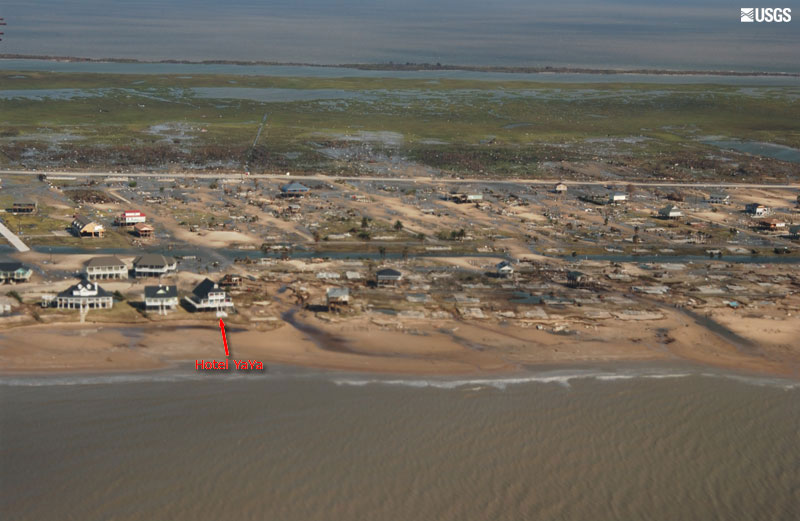 9-16-08 9:30PM - Cay Osmon sent this link to USGS before and after shots. They have a shot of North Jetty:
USGS Images
9-16-08 8:54PM - Travis and Molly Slagle sent this comparison of Emerald 2 and Seaside Lane.

9-16-08 8:54PM - Let the updates start again. Here is a Boyt Rd before and after from Clayton Wood.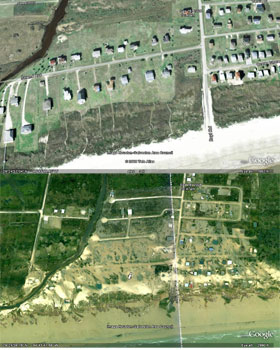 9-16-08 8:10PM - Still lots of updates coming, but I'm trying to catch up on my email some. Here are two photo galleries:
More Crenshaw Beach Photos From Hill Dishman
More of the much requested Jimmy Taliaferro Images (Taken By: Jerry and Hugh Kelley, Allied Electric, Beaumont, TX)
9-16-08 7:00PM - Had several requests for Biscayne Subdivision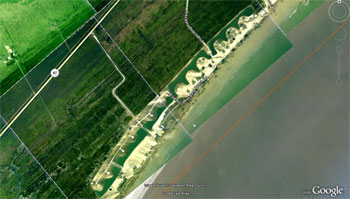 9-16-08 3:30PM - Time to head out for a few hours, back after 7PM with more updates.

Have the following lined up: More Crenshaw Beach photos, Noisy Waves, Honeysuckle, Melody, Helen Lane and more Boyt Rd. pictures
9-16-08 3:27PM - Here are more comparison shots from Amanda Jones.

-


-

9-16-08 3:00PM - Hill Dishman sent this image of Strand & Boyt Rd.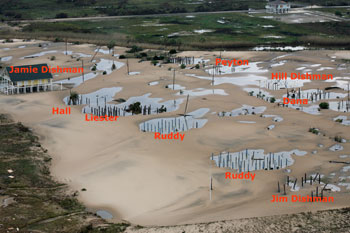 9-16-08 2:45PM - Krin Koehler forwarded this picture of Crenshaw Beach & Boyt Rd.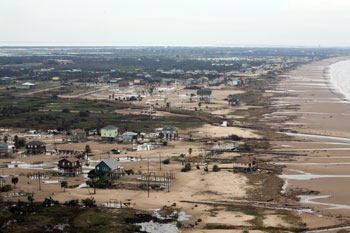 9-16-08 2:40PM - Hunter Gallien sent this link to images of Kona Kai / Boyt rd
View Gallery
9-16-08 2:30PM - Bolivar Yacht Basin.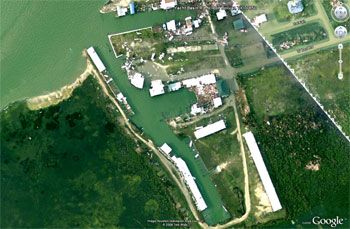 9-16-08 2:00PM - Sorry, real life caught me up for a bit. As promised here are the comparison shots from Amanda Jones.

-


-


-


-


9-16-08 11:15AM - I'm running out to lunch, but when I get back I have some very detailed before and after shots from Amanda Jones that I will post.
9-16-08 11:00AM - Amanda Jones sent these overlay images from around the Big Blue Tank (Singing Sands Area).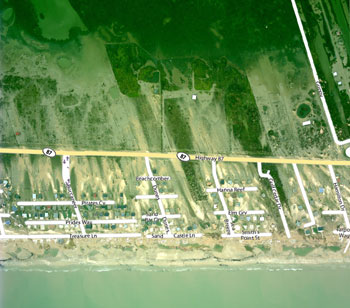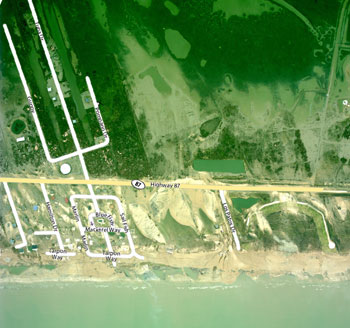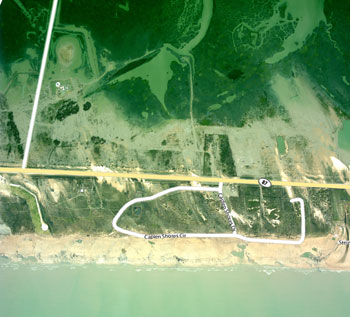 9-16-08 10:50AM - Just went to check on Rancho Carribe. Google Earth is a very handy tool, it makes it very easy to navigate the NOAA data.
Google Earth Blog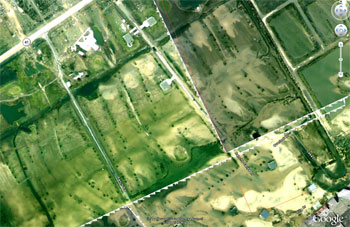 9-16-08 10:30AM - Another Gilchrist overlay from Annalisa Vargus.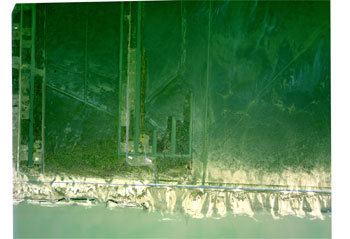 9-16-08 10:20AM - Had an email wanting to check on Mama Teresa's Flying Pizza. It was one of our family's favorites too. So sorry Mimi.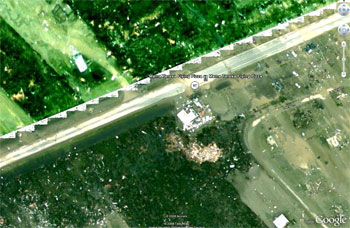 9-16 10:15AM - Glenda Little sent this overlay of Emerald 2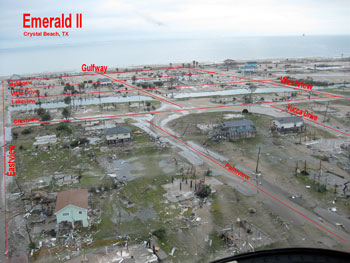 9-16-08 9:50AM - Sherri Jeakins sent this link to a CNN video showing before and after of Gilchrist. Simply unbelievable.
View Video
9-16-08 9:55AM - Hunter Gallien sent this link to an article about rebuilding on the Peninsula
View Article
9-16-08 9:50AM - Sherri Jeakins sent this link to pictures of the homes on Boyt Rd.
View Gallery
9-16-08 9:45AM - Finally found the email I was looking for from Will King. Google has taken some of the work out for us. If you can download Google Earth, and follow the instructions on this page you will be able to find any area on the NOAA images with streets. Be sure to check the box that says "Roads" in the Layers area on Google Earth.
Google Earth Blog
9-16 9:30AM - Kyle Byrnes sent this overlay of Dunes and Sea Breeze.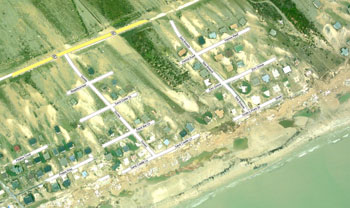 9-16-08 9:15AM - CNN has a video of a reporter on the ground on the Bolivar Peninsula Click Here to View.
9-15-08 11:45PM - Finally got caught up on all of my email tonight. Thank you so much to those that have sent emails. Hope to have more updates in the morning! Good night all.


9-15 10:45PM - Brandon sent in this fading before & after of Ramada Beach.
9-15-08 10:25PM - Jeff at from Mad Nonnie sent me an email, and had this album of Crystal Beach aerials on his site. By far the most I have seen in one place. Click Here to View.


9-15 9:15PM - Here is another overlay of the Gilchrist area from Annalisa Vargas.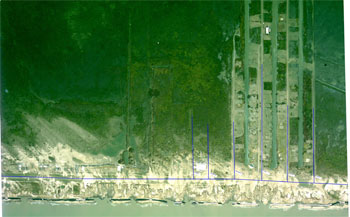 9-15-08 9:00PM - Steven Noreyko sent this overlay showing The Big Store and Gregory Park.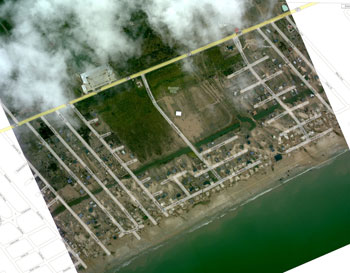 9-15-08 8:57PM - Joel Kirkby sent this overlay of what he thinks is Emerald Beach 2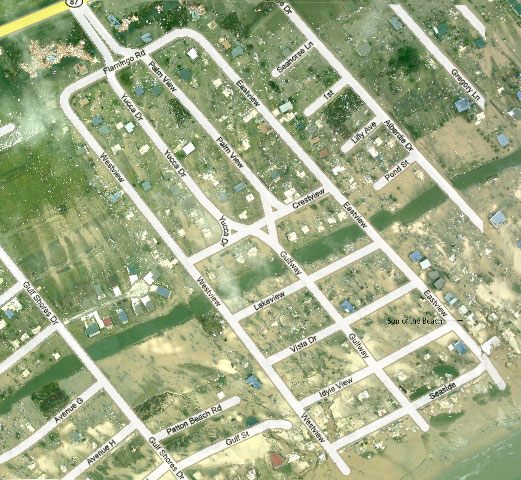 9-15-08 8:50PM - Martha sent this image of Fort Travis.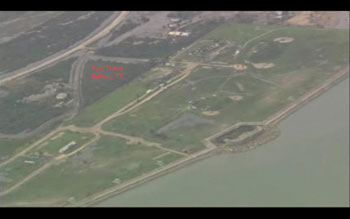 9-15-08 8:45PM - Steven Noreyko sent this overlay of SandCastle.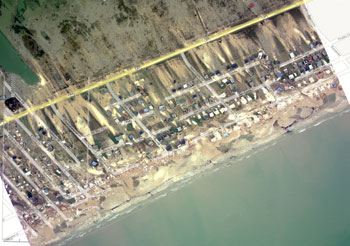 9-15-08 8:35PM - Cody Bingham sent this Before and After of Gilchrist.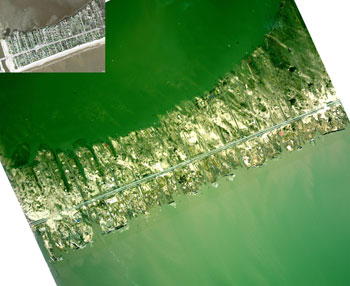 9-15-08 8:15PM - Crystal Goetz Sent me an email to let me know that ABC 13 has new Crystal Beach Videos on their site. ABC 13 Video page.

9-15-08 8:10PM - Here is an image of Stingaree Drive. Stingaree is one of our family's favorite restaurants..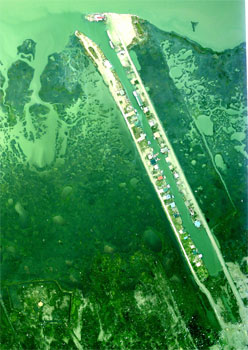 9-15-08 8:00PM - Molly Slagle sent this to me, and says it is the Emerald 2 Subdivision.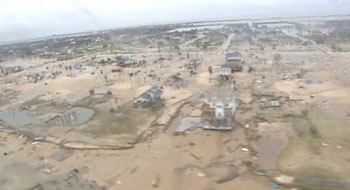 9-15-08 7:50PM - New aerial pictures, none identified. Let me know if you see something you recognize.

Pretty sure these are from Saturday, or really early on Sunday
Ashlee Brantley Just emailed to say "This is Sandpiper - the far left blue house (the back of it) is ours on Martinique!"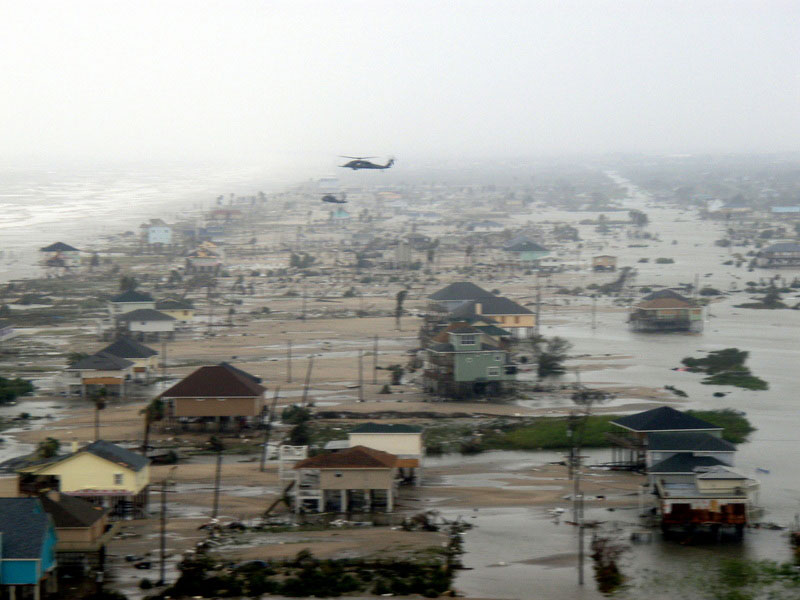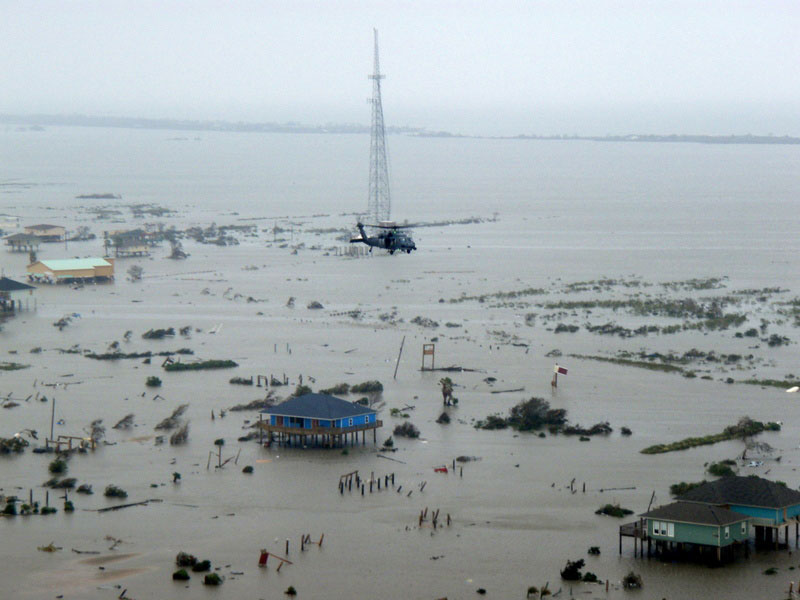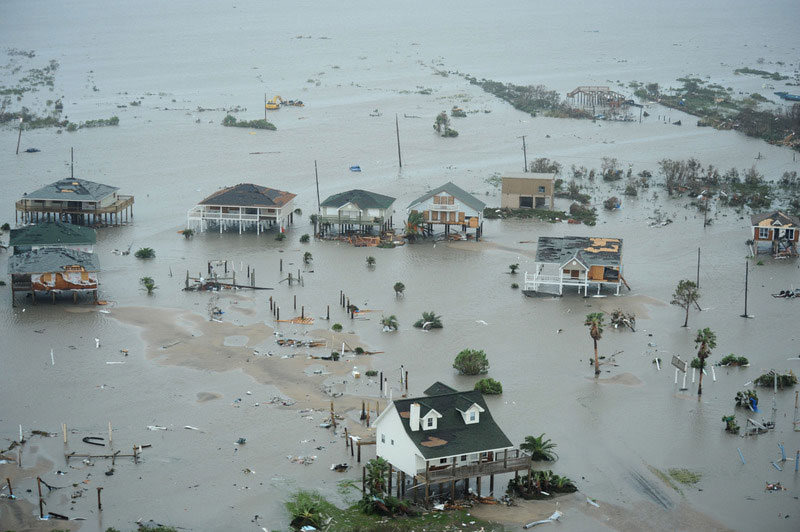 9-15 7:40PM - Starting updates again. Here is an overlay of the Gilchrist area from Annalisa Vargas.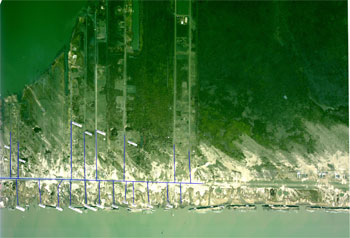 9-15-08 3:15PM - Thanks to everyone that has sent in pictures today. I have to be out for a bit, but will start updating again shortly after 7PM. If anyone wants to do a street layover of the Boyt Road area from the NOAA Images that would be helpful. I also haven't seen anything come in yet east of Rollover Pass. If I don't have some by the time I start updating tonight I'll make some.
I'll leave everyone with the NOA Satellite images link again.

9-15-08 3:00PM - Angela Bush sent some pictures this morning. The first is said to be of Gilchrist, the second doesn't have a description other than Crystal Beach.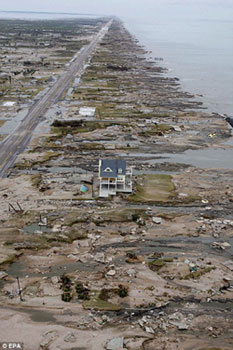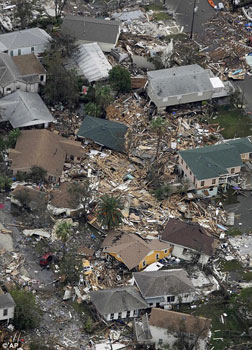 9-15-08 2:45PM - Matthew Berry just sent this animation before and after of the Tidelands Subdivision. Thank you Matt. Click Here to View

9-15-08 1:25PM - Chris Prause sent in these before and after shots of the Gulf Cedar area. I think this is Singing Sands.

Click the images for larger view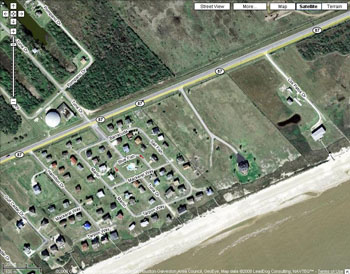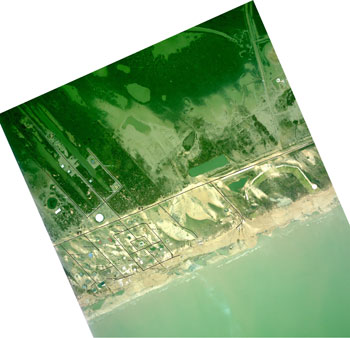 9-15-08 1:00PM - Just got these images from Carlos. They now link to High Quality Versions.

From Carlos: Before and after images of SANDCASTLE & COBB'S COVE Subdivisions.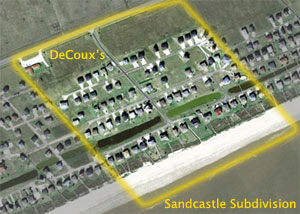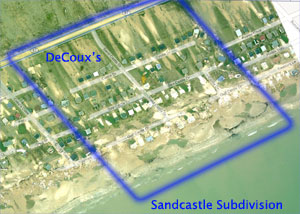 9-15-08 11:40AM - Lunch Time. Before lunch, here are some pictures from Beth Plum and Troy Duhon showing the Sandy Shores Subdivision and Redfish Ln.

Click the images for larger view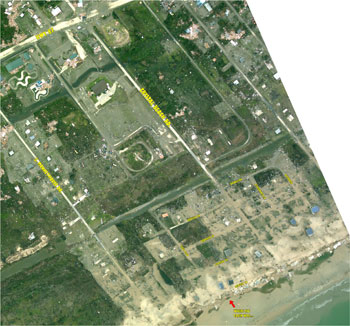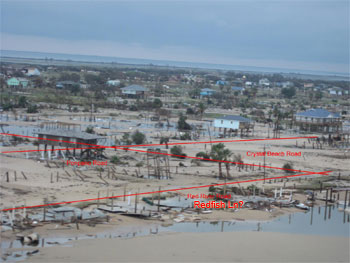 9-15-08 11:15AM - Gregory Park Area. Here are two images stitched together of the Gregory Park Area. At the bottom (Beach) center between Gilmore and Holiday Drive you can see Casa Blanca and Hotel YaYa.

Click the image for much larger view (5.5MB)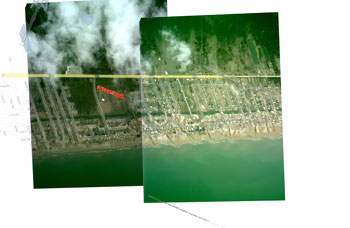 9-15-08 10:23AM - Tidelands. I've had a lot of requests for the Tidelands Subdivision. Here is an overlay on the sat images. It didn't line up quite as well as the Bolivar image, but should still be helpful. If anyone has good photoshop experience and would like to create some overlays like I have done send me an email, and I'll get you some good instructions.

Click the image for much larger view (3.8MB)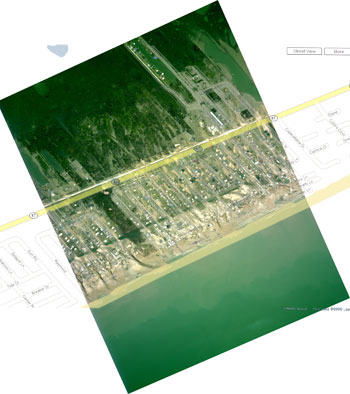 9-15-08 10:00AM - Good Morning. Started off the mornign with an email from Lee Harrell letting me know that NOAA had updated their satellite images of the area. Click Here to look at them
Click on the squares in the picture on that page, and the following pages to navigate the images.

For the Essary Clan (My wife's family) I was able to overlay some Google Maps roads onto the image showing their original beach house (JB's house now) and Imy Graham's House.
This house is in the Bolivar Community, and shows 3rd to 15th from Broadway to the Canal. Click the image for the full version (it is 3.8MB so be patient - the upper left is white, so you will have to scroll to see it.).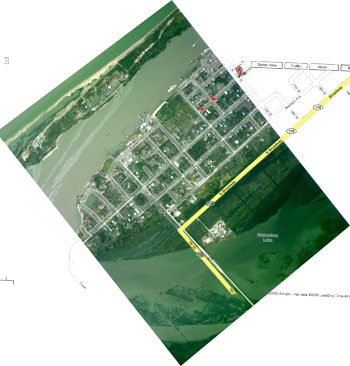 9-14-08 11:30PM - Goodnight.
The flow of pictures seems to have stopped for the evening. I've received many emails today. Some great news, some the worst. My heart goes out to all of the familes that lost homes and loved ones. I hope that this website has been helpful in calming fears and bringing closure to those who needed it.

I will update with any images that trickle in overnight between 9AM and 10AM tomorrow. Look for more updates throughout the day as well.

9-14-08 11:00PM - Peyton Porterfield just sent me this image of a screen capture from the KHOU flyover video
Click for larger picture. He Says: From this picture, you can see the water tank just southeast of the intersection, the high school, and Boyt Rd. from the intersection to the beach.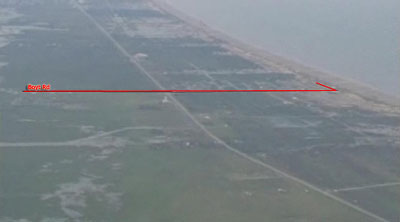 9-14-08 10:50PM - Dale sent in this screen capture from the CNN video that he says is Gulfport Village. Thanks Dale!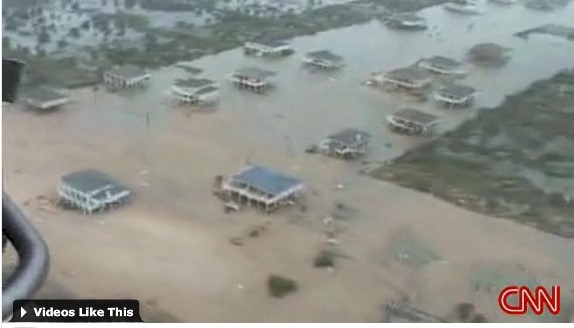 9-14-08 9:26PM - ORDER TO VACATE BOLIVAR PENINSULA, GALVESTON COUNTY, TEXAS Click Here to Read


9-14-08 9:15PM - Lee & Jennifer Harrell sent this. Maybe someone recognizes something.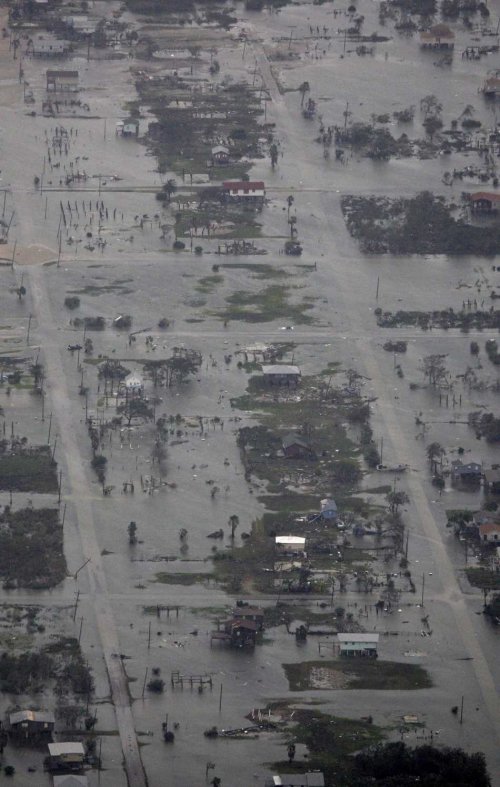 9-14-08 9:07PM - Katie Brading just sent this closeup of Rollover Pass that she found from CNN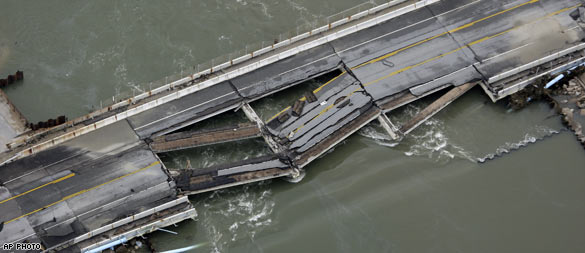 9-14-08 9:05PM - Just found some emails from earlier that got lost in the flood of messages. These great comparisons are from Tammie Nolte (From Holland)
Emerald 1 (Was sent to me as Emerald 2, but I've gotten several emails that say this is actually Emerald 1)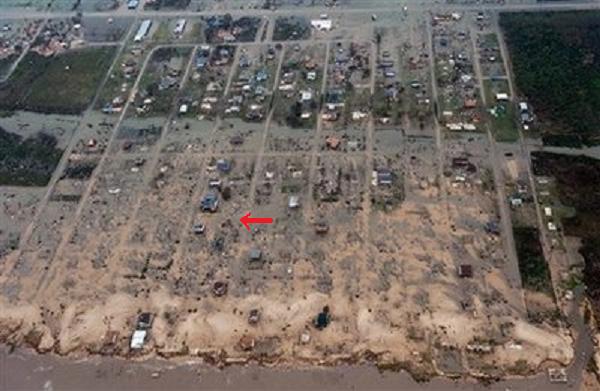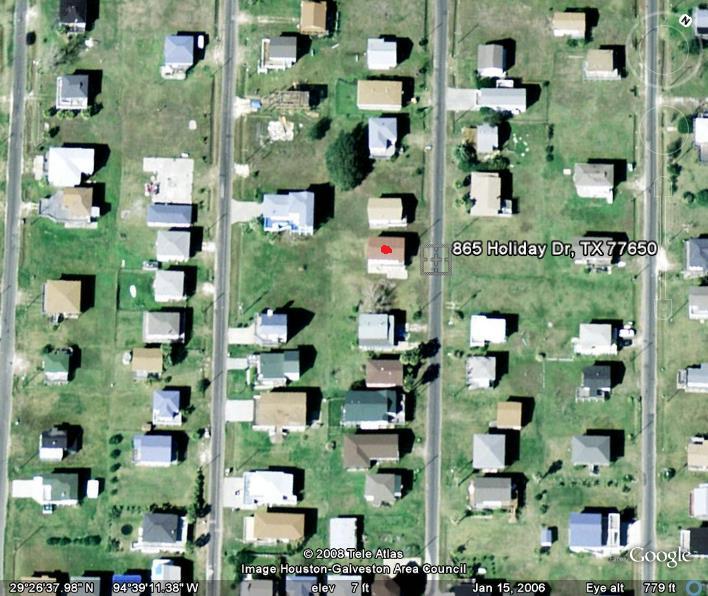 Holiday Drive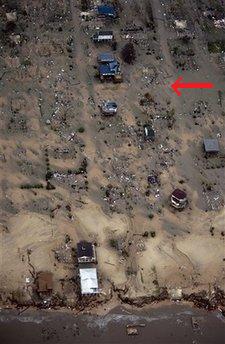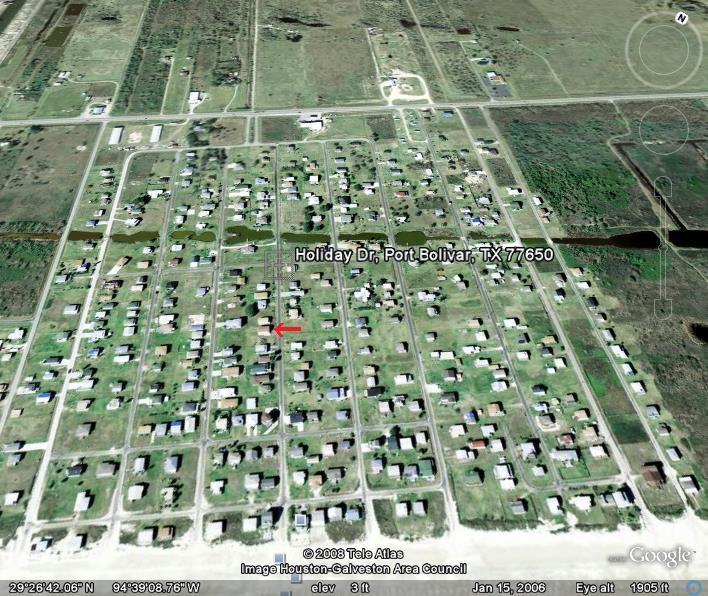 9-14-08 8:50PM - My lovely wife Abby found these images of Gilchrist and one more of the Bolivar Ferry Landing this evening.
Rollover Pass I think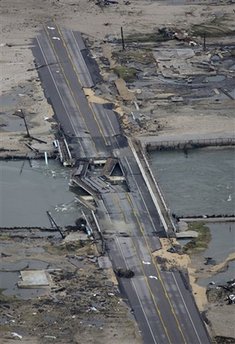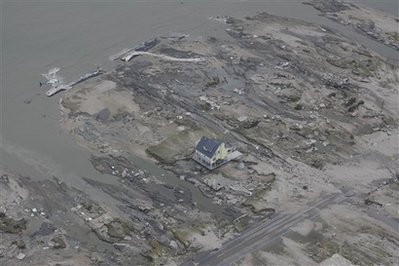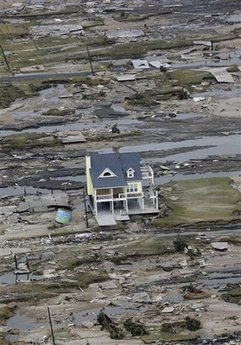 9-14-08 8:35PM - Screen captures from the KHOU flyover with descriptions from Kevin Kramer (Click images for larger)
good view of the Waterways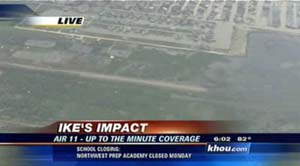 Waterways on the bottom and the O'Neal section top, Helen Dowdy is the 2nd street from the right. from right to left, canal,RosenBloom,canal,Helen Dowdy,canal,Buddy Kirk,canal,Nelson Ln.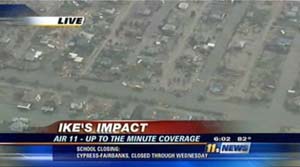 Zoom in on Canal between Nelson Ln and Buddy Kirk and a few more streets towards 87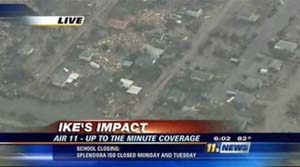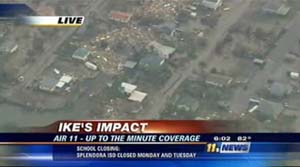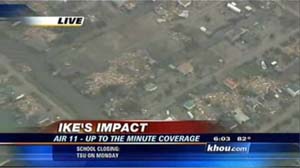 Zoom out and a bit more of the Waterways towards 87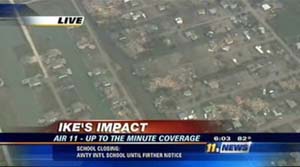 Another zoom of Nelson Ln towards canal to Buddy Kirk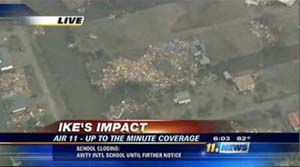 Appears to be the view from West to East of the same area, 87 on the right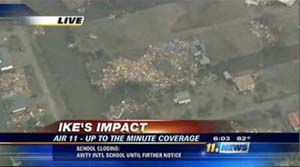 9-14-08 8:25PM - Major Landmarks from Rich Gold images.

Bolivar Ferry Landing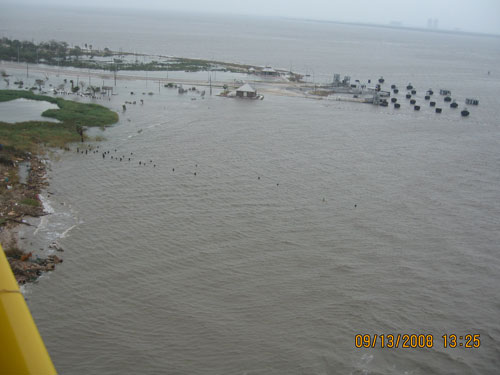 Bolivar Lighthouse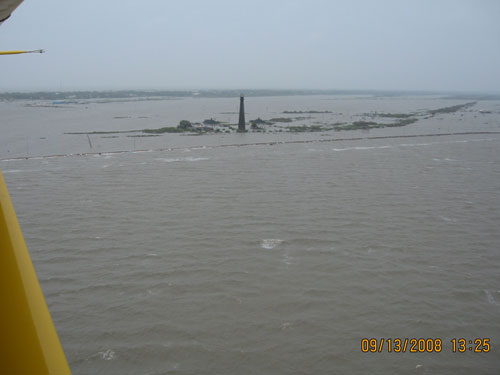 Rollover Pass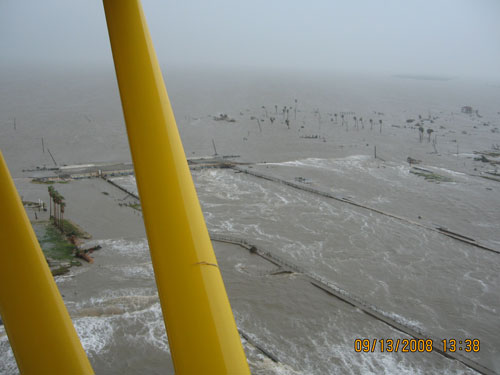 Other Rich Gold images: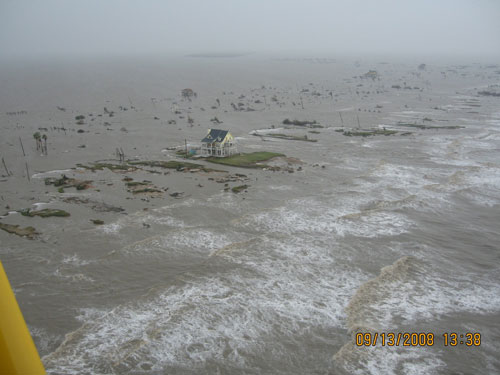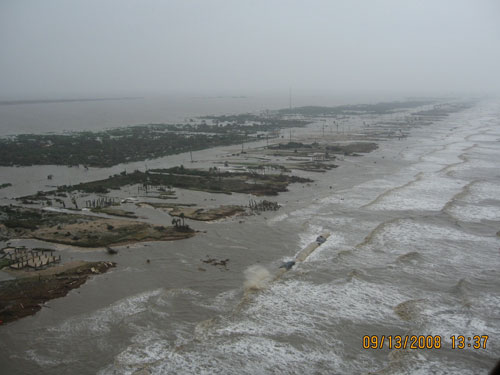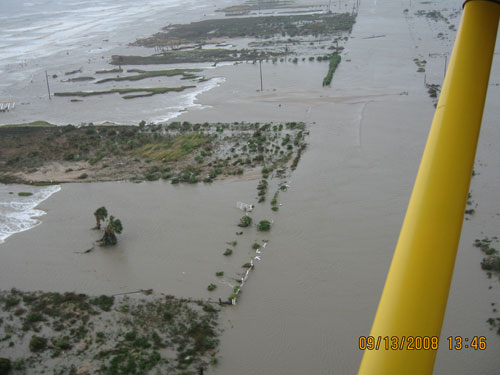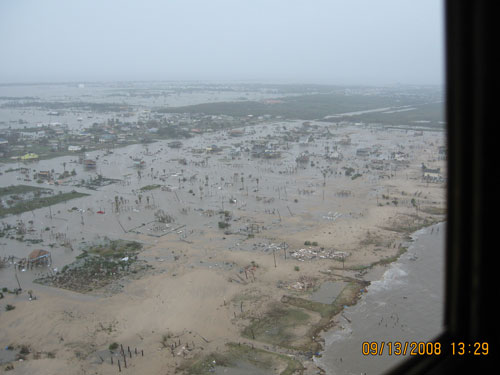 9-14-08 8:14 - Matt Berry sent me this image with the streets in the Tidelands subdivision labeled. Thanks Matt!
Click for larger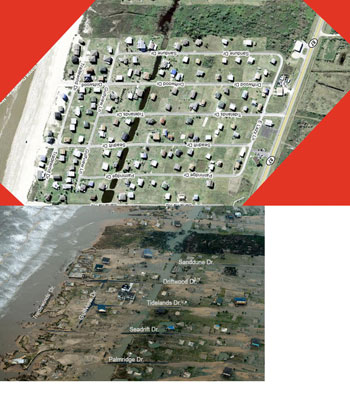 9-14-08 8:10PM - Just got notice that KHOU has put up the flyover on their website. Click Here to see it
9-14-08 8:00PM - Emailed to me by Jimmy Taliaferro (Taken By: Jerry and Hugh Kelley, Allied Electric, Beaumont, TX), these are some really great shots. Click on the images to see them full sized.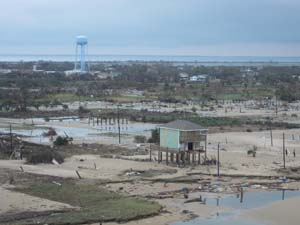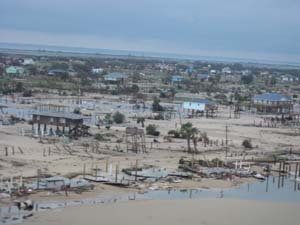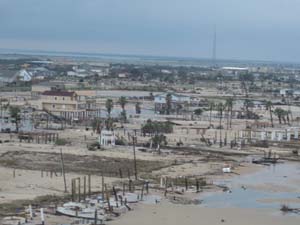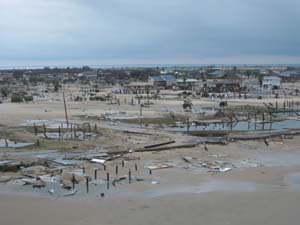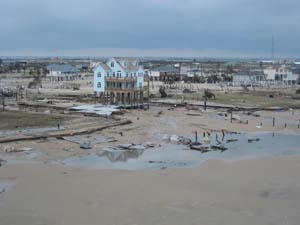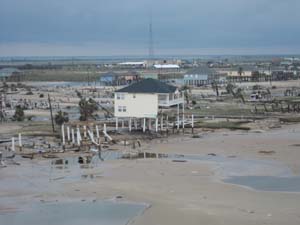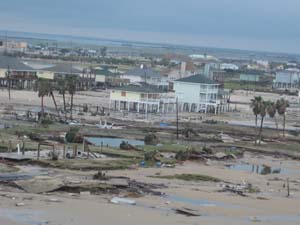 9-14-08 7:50PM - Updates starting within next 5-10 minutes.. Sorry, got caught up.
9-14-08 3:50PM - Lots of pictures coming to my email. Should have a big update in just after 7PM. Several pictures with streets labeled, sorry I can't get them up sooner I know many people want to know. Keep checking.
9-14-08 3:30PM - I'll be out until 7PM or so tonight, so look for more updates to start back after 7PM.
9-14-08 2:11PM - Found a better picture of the one showing Hotel YaYa. I've also emailed the photographer that I believe took this picture to ask for higher resolution and any other images that he has.
9-14-08 1:45PM - HOTEL YAYA IS STILL STANDING!!! - I'll be looking for higher quality pictures. I think this picture came from yahoo news, if anyone has any way to get a higher quality version of this picture please email me.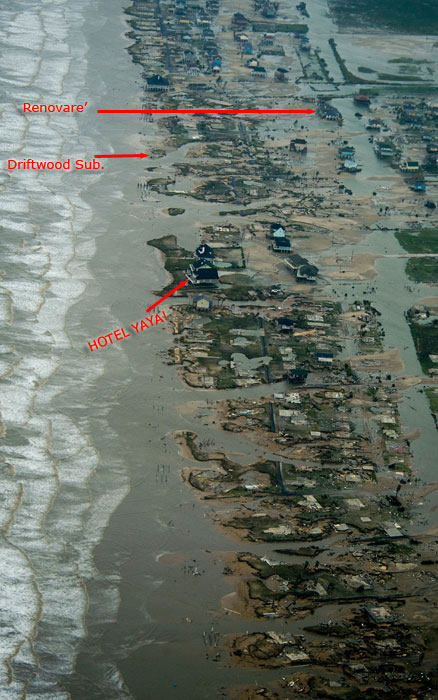 I believe this picture was taken by Smiley Pool. Thank you so much for a great picture. Would love to have a higher quality version, or anymore that you might have so more people could see their houses.

I've had several requests to know where Hotel YaYa is for comparison to see other houses. This is from Google Maps showing the area (Only 1 of the four houses directly behind was completed at this point). Hope this helps some.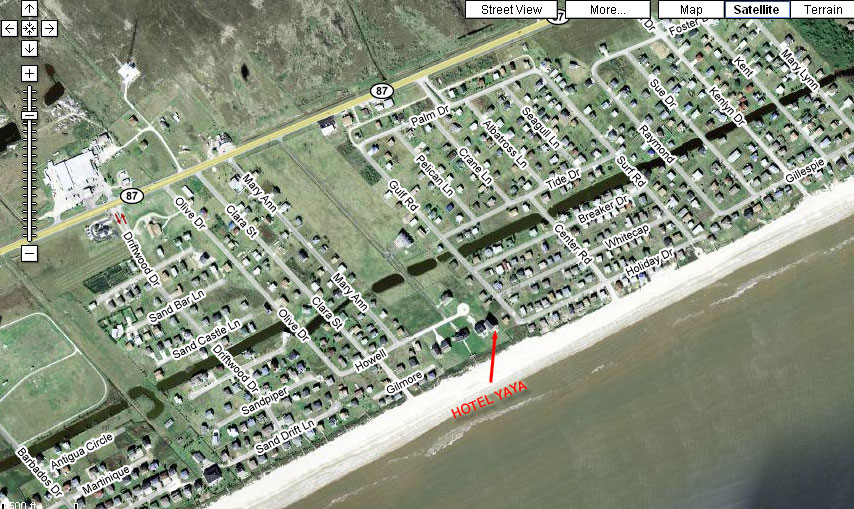 9-14-08 9am - Link to video
CNN Crystal Beach Flyover
---
9-14-08 8:50am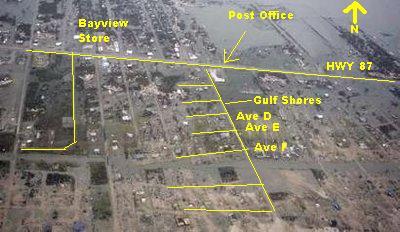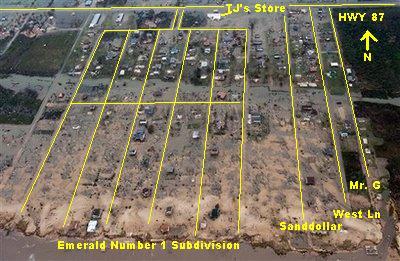 ---
9-14-08 8:30am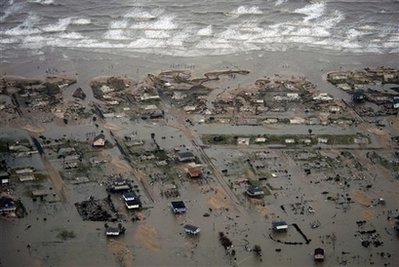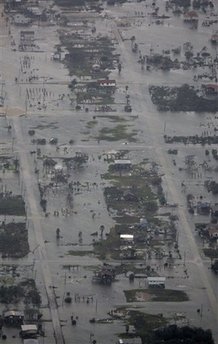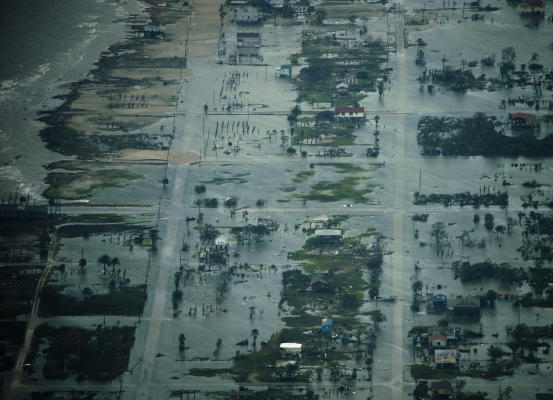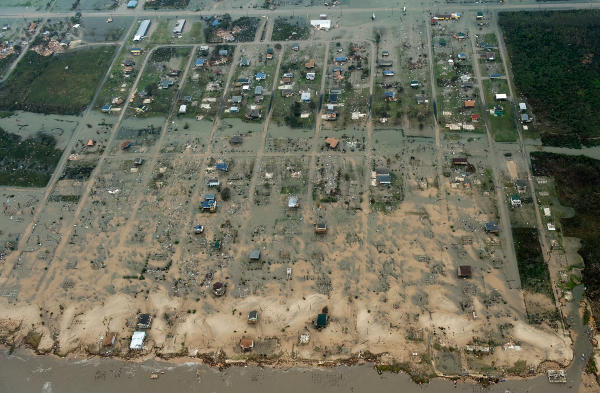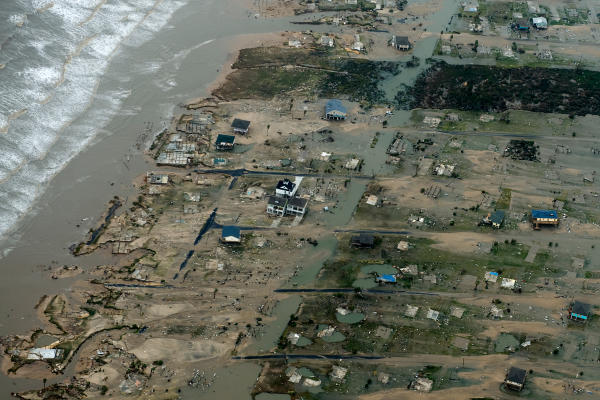 ---
9-14-08 8AM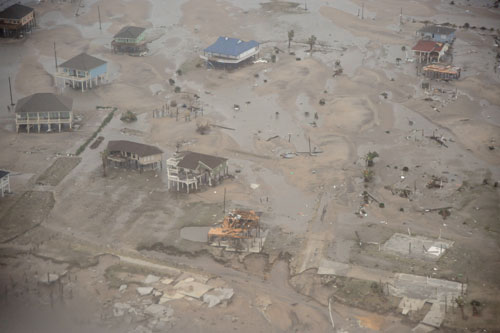 Click to see it bigger (Much Bigger)
Coast Guard site said "near Bolivar Point"


---
9-13-08 8PM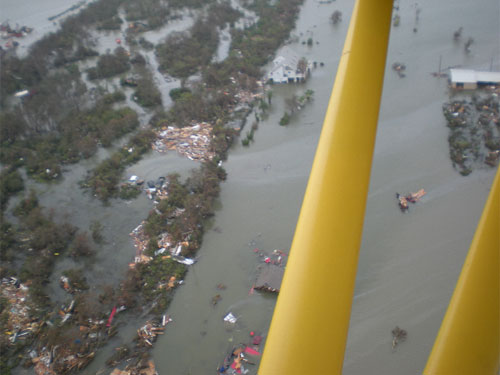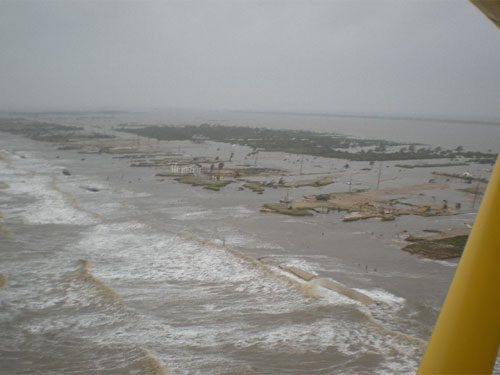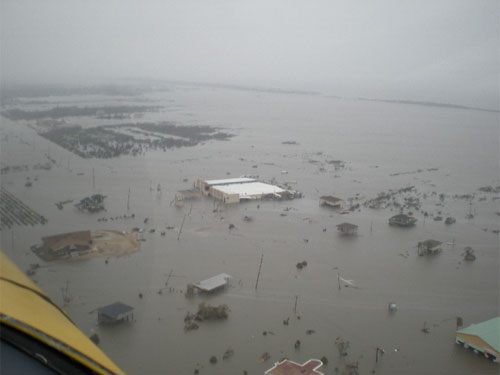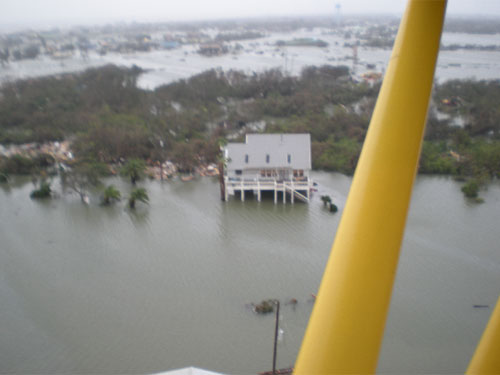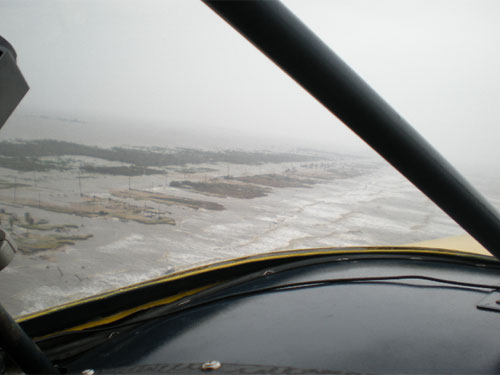 354098